---
Vinyl Products Limited
Action Loose Leaf division
98 Advance Road
Etobicoke, ON M8Z 2T7

Phone: 416.252.5491
Fax: 905.602.1627
TollFree: 1.866.8Action

---
FAQ
Frequently asked questions and some good general info, if we don't answer your question here,
please phone, fax or e-mail customerservice@actionlooseleaf.ca
---
1. Quotes:
[click on "Quotes" for more info].
We make every effort to return completed quotes within 24 hours. When custom components are needed timeline will be slightly longer. All prices quoted are "each" or "per binder" pricing unless otherwise stated. Specialty components, such as color match inks will be charged for unless specifically stated in the quote. All taxes as applicable will be collected. All prices are quoted f.o.b. Action Loose Leaf Inc., Toronto (Etobicoke), Ontario, shipping dock.
---
2. Orders
All orders that are accepted by Action Loose Leaf Inc. can be sent to us via e-mail; fax or hand-delivered (courier) phone orders may be accepted, but only when followed up with written documentation. All orders should provide as much info as possible to avoid any delays in processing the orders, All stated Production Lead times are considered to start when Action Loose leaf has All info and art / electronic media  and approvals to run the order
---
3. Repeat Orders
[repeat and exact repeats] please provide Action Loose Leaf with as much info as possible, such as year and date or previous invoice or Action job #. Most artwork, film and stamping dies are kept on hand and available for a period of 5 years after which they may be returned or discarded. Size or capacity changes using existing art can be accommodated, changes to text or changes that incur labor may be invoiced.
---
4. Shipping / Production Lead times
while Action Loose Leaf is primarily a "Demand / Custom Manufacturer". Delivery is always quoted as 11-15 working days from order and artwork to delivery, though product is generally shipped quicker than stated. Firm shipping dates can be provided at time of order.
Action Loose Leaf does maintain some stock of "ready to ship" showcase binders (white only). This product in most cases can be made available for very quick delivery, sometimes as quick as same day [subject to cartage / freight time-lines], though generally delivered on 2nd or 3rd day after order.
---
5. Over and under runs
Action Loose Leaf Inc, reserves the right to consider all orders complete +/- 5% of order quantity in the case of custom manufacturing, requests for "exact" quantity will be accommodated when known to Action Loose Leaf at time of order. Action Loose leaf will attempt to ship "full carton quantities".
---
6. Currency
Action Loose Leaf is based in Toronto, Ontario, Canada, and as such all prices quoted are in Canadian Dollars [$cdn]. Payment received is generally in Canadian Dollars, Action Loose Leaf Inc. can also accept VISA, MASTERCARD (admin charges may apply) or should you prefer we can pre or post invoice through "PAYPAL". Any conversion from $USD to $CDN will be the responsibility of the payer.
---
7. Tax
Action Loose Leaf inc. is a Canadian company, based in Ontario, Canada. All applicable taxes (Canadian/Ontario) will be collected unless we have a tax exemption form provided to us. For product shipped outside of Canada, any applicable Duties, Taxes and brokerage costs as applicable will be the sole responsibility of the purchaser. Action Loose Leaf Inc, will not be held liable.
---
8. Freight and shipping
All orders are f.o.b. Action Loose Leaf, Toronto [Etobicoke], Ontario, unless specified or written into your quotation. Freight/Shipping company used will generally be the choice of Action Loose Leaf inc.  We will at ALL time attempt to use the quickest, safest and most cost efficient carrier. Customer can specify a carrier, and where possible provide shipping documents at customers expense/time.
---
9. Packaging, Carton Quantities
| | | |
| --- | --- | --- |
| 5/8" capacity | [case 804] | 22 per carton |
| 1" capacity | [case 805] | 20 per carton |
| 1 ½"capacity | [case 806] | 14 per carton |
| 2"    capacity | [case 807] |  12 per carton |
| 2 ½" AD cap | [case 808] |  10 per carton |
| 2 ½" cap St D | [case 809] | 8  per carton |
| 3" cap AD | [case 809] | 8  per carton |
| 4" cap ADL | [case 810] | 4 per carton |
---
10. Weather and "cold crack"
1)        All vinyl binders are made of PVC sheeting (vinyl sheeting), which is a type of plastic. It will soften when heated and become brittle when exposed to the cold. Although the highest guality vinyl is used in the binders sold to you by Action Loose Leaf inc. and the utmost care is taken in the manufacturing of these items, THEY CAN CRACK IN COLD TEMPERATURES. Products made of quality vinyl can withstand cool temperatures. Action Loose Leaf inc. will when possible use the quickest or most direct carrier or same day transport between October and May.
---
11. Warranty Statement
Action Loose Leaf / the Matheson Family have a long history [since 1979] of producing vinyl binders and rarely have quality issues ever arisen. Should any product be defective it will be repaired, replaced or refunded as determined by mutual discussion.
---
12. Environmental Statement
At Action Loose Leaf inc. we are concerned for the environment. Action Loose Leaf inc. does not use recycled/reprocessed vinyl because it will reduce the quality and longevity of the finished product. Action Loose Leaf inc. makes every effort to recycle and to use recycled content in our packaging and manufacturing. The board stiffener, rings, as well as most other components, have a percentage of post consumer recycled material. Action Loose leaf takes an active part in recycling/reduction of waste. Action Loose leaf inc. is prepared to take back, your old used binders as part of a purchase/recycle program. Please enquire.
---
13. Ring style and capacity
Standard ring configuration:
At Action loose Leaf inc., we install both round rings and "D" type ring mechanisms into our binders. Both styles are backmounted with exposed black rivets on back cover. Both of these styles fit in the same sized binder case.
Capacity Measurement:
To determine the capacity of round rings, measure the inside diameter of the ring. For "D" or "angled D" ring, measure the straightest part of the ring mechanism. Please do not refer to the spine size to determine the capacity.
Hole punching:
The industry standard center-to-center measurement for punching to fit on a letter size 3 ring mechanism is 4 1/4″ center to center. The industry standard center-to-center measurement for the punching to fit on a legal size 4 ring mechanism is 3 1/2″ center-to-center.
Sheet Size:
Our industry standard states the binding edge measurement first to ensure correct paper orientation (portrait vs. landscape) and therefore the sheet size mentioned on this website are 14″ x 8 1/2″ (14″ x 9″ max) and 11″ x 8 1/2"(11″ x 9″ max).
Index divider allowance:
To meet general industry guidelines a tab allowance is built into our binders allowing up to an industry standard 1/2″ tab extension. This means a 9 1/2" wide sheet (max) will fit into our binders.
---
14. Case size Measurements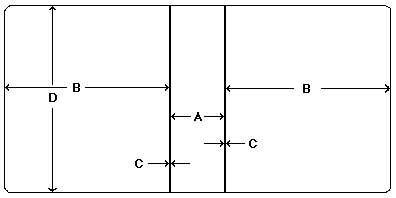 | | | | | |
| --- | --- | --- | --- | --- |
| Binder Case | "D"height | "B"width | "A" spine | "Overall " |
| case 804 | 11 1/2″ | 10″ | 1″ | 21 1/2″ |
| case 805 | 11 1/2″ | 10  1/2″ | 1 1/2″ | 23″ |
| case 806 | 11 1/2″ | 11″ | 2″ | 25″ |
| case 807 | 11 1/2″ | 11  1/2″ | 2 5/8″ | 26″ |
| case 808 | 11 1/2″ | 12″ | 3″ | 27 3/4″ |
| case 809 | 11 1/2″ | 12  1/2″ | 3 3/4″ | 29″ |
| case 810 | 11 1/2″ | 13″ | 5″ | 31 1/2″ |
---
15. Colors and Finishes
Action Loose Leaf Inc. as a "Custom/Demand" manufacturer can produce product in many different grains/finishes and an assortment of colors.
The most common grain/texures are swade, shoe calf, montana  and milano. Many other are available info on request. There are many other upgraded texture with many colors, please enquire.
Swade texture is by far the most common material used, the most standard colors are:
White
Black
Light Grey
Charcoal/Medium Grey
Kelly Green
Dark/Mint Green
Fair Blue
Royal Blue
Navy Blue
Maroon / Burgandy
Red
Beige [off white]
Yellow
---
16. Polyethylene Colors and thicknesses
Most common thicknesses
.015 gauge
.023 gauge
.035 gauge
.055 gauge
.075 gauge
.090 gauge

Available Colors

Natural
Black
White
Red
Dark Blue
Medium Blue
Green
Yellow
Tangerine[orange]
Brown
Beige
Burgundy
---
17. Pockets
Many standard pockets are available please find below,

click here to open this printable PDF

---
18. Printing and print specifications
Screen Printing, is a stencil print process by which ink is forced through a design on a mesh screen to produce an imprint of one or more colours on the raw material (sheeted vinyl) or finished goods (binder flats or poly). This is the process of choice that provides the best quality and best coverage when imprinting large areas or close registration of multiple colors.
Silk Screening costs, Screen print charges include screen, set-up charges and film to create screen, front and spine screened together are considered as 1 location. Back of binder is an additional cost. The front and/or the spine together is considered as 1 print area and therefore a single print charge will be incurred or quoted in. "per size, per color
Hot Stamping / Foil stamping, is the process by which a "foil" is pressed onto the vinyl and by the use of heat and pressure the foil is transferred to the vinyl. This is "generally" done in gold or silver colours where a high sheen (shiny) result is desired. This process is also generally used on small items or small areas. Each area of 3" x 3" is considered to be 1 print area.
Hot stamping / Foil stamping costs, Foil stamping charges will include all foil (standard colors) and the cost of the "stamping die". Each 3" x 3" area will be assumed to be 1 area. This means that 1 area on front and 1 area on spine will be considered as 2 areas printed. "per size, per color"
Repeat Orders,  Orders that are of an exact repeat nature, are extremely similar, such as only a change in size or something similar, and has been  produced by Action Loose Leaf Inc within the previous 5 years, will not require new art work as it will he held on file for that length of time. Please provide a sample, Action job number or other similar info if possible to ensure correctness.
Digital Media Format, Although the preference of Action Loose Leaf inc. is an Adobe Illustrator (.ai) file. Our preferred format is PC, if your digital file is Mac, we can have this format manipulated. If possible we would ask you to supply the font(s) if possible. If a variety of fonts are used in your file, please convert to outlines in order to avoid any possible typeface conflicts.
Artwork, If output art is provided, it should be "clear" high quality laser or better, black and white (positive image) camera ready, size ready and colour separated if 2 or more colors are to be printed. If not placed on an art board and cropped for our standard uni-case binder then good placement and direction should be indicated, crop marks should indicate placement where possible. Products such as photocopies, letterhead, and business cards are not considered as camera-ready artwork and as such are unacceptable for print.
Manipulation of customer supplied digital artwork, changes to/or art creation by Action Loose Leaf or our representative may/will be charged at $100.00 per hour. Output to film and/or over sized film will/may be charged at .15 per square inch. Certain limitations may require that we make slight modifications to the artwork submitted to achieve the best results when printing.
Upon completion of art output/manipulation a "reduced in size" Paper proof will be faxed or emailed for your approval prior to production, any delivery/lead-time promises begins upon approval of artwork.
Proofs, If a Paper proof is required a cost of $10.00 may be billed, a foil stamped proof on vinyl may be invoiced at $15.00 per location/color. If a Silk Screen proof on vinyl is required then a cost of $50.00 to $75.00 per size, per color may be charged. If a single completed product is required as a proof before production begins, This type of proof will have to be specifically quoted.
Allowances, All binder print pricing quoted allows for front and spine coverage (max 160 sq inch) that is reasonable, to Action Loose Leaf or our representative. A complete wash / coat which covers a high proportion of the binder, or large "bleeds" may incur extra film and print cost. Additional cost will be charged for print on Back cover. When an edge bleed exists it is necessary to ensure the artwork extends ½ past the edge of the binder cover.
Screens,  Screens less than 55 dpi will print well, Screens higher than 55 dpi will fill in and start to become solid, course screens of 55dpi or less are generally used on binders and clipboards due to the nature of the material finish. Print items of greater than 55 dpi can be attempted, by way of a sample print at a cost to customer of $87.00 for your approval before print run.
Ink Color / Color Match Inks, All quoted screen-printing assumes standard ink quality and color. Action Loose Leaf inc. generally prints using "flat" ink on vinyl and "gloss ink" o polyethylene, when referring to PMS (pantone matching system) please refer to the "C" or coated colors for best representation (the appear as a "stronger" color).
Cost per liter for in-house, as close as (Miller Mix) is $30.00 per liter.
Cost per liter for "Lab" color match is $85.00 per liter
–Product Style, As a custom manufacturer, Action Loose Leaf Inc. prints primarily as flat vinyl, printing on finished goods or polyethylene will incur additional charges of $.05 each product.
Print Management, Action Loose Leaf Inc as a quality manufacturer prefers manage its  outsource screen printing. All artwork and instruction should be directed to Action Loose Leaf Inc. Should you have a specific printer to use request or if you choose to manage your own print Action Loose Leaf will charge $20.00 per job, to cover additional cost incurred by Action Loose Leaf Inc. You will be expected to arrange freight to and from as well as bear all cost responsibility.